Meet Our Donors
We thank all our planned-gift donors for their generous support. Here are some of their stories.
Liz Barker
Liz Barker has always loved music and played the piano earlier in her life. So when she was invited to serve on a committee to raise funds for the purchase of new pianos for Summit Square in Waynesboro, she was excited to participate in the effort.
When inviting fellow residents to make gifts to the piano fund, Liz encouraged them to consider making their gifts in honor or in memory of a loved one or friend. After her husband, David, died in 2009, Liz was grateful to receive many notifications from his alma mater, Virginia Military Institute, every time a gift was made in his memory. Memorial and honor gifts are wonderful tributes to a person's legacy, she says.
"I've received so many notes of appreciation from families after honoring a deceased loved one (or someone who's still living) with a gift to their favorite charity," says Liz, who was married to David for 53 years. "Flowers are marvelous—I love flowers—but they only last for a short time. A gift in memory or honor of someone lasts forever. The good that these gifts will do extends far beyond our lifetime."
Many of the gifts Liz has made in memory of loved ones or friends have gone to Summit Square, where she has lived since January 2010. The community is warm and inviting, she says, and her neighbors really care about each other. She also enjoys volunteering in the assisted living and health care areas.
"The residents and staff here at Summit Square opened their arms to me and welcomed me to this community," Liz says. "I never see sad faces here—it's always smiles. And the staff here is marvelous. We can go to them with any concern, and they'll meet the need. Everyone here has become an extension of my family."
Liz hopes that the gifts she makes to Summit Square will help support a welcoming community that is accessible to people from all walks of life. She supports the strong commitment of Sunnyside and Summit Square to help residents maintain the security that they'll be cared for the rest of their lives, even if they have outlived their resources.
"I hope Summit Square will always be available to anyone and everyone," Liz says. "I hope my gifts, and those of others, will make this community available cost-wise to everyone. I hope our support can help this community continue to grow and become like a family to everyone who lives here."
---
Dr. Richard Meyer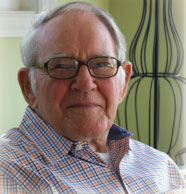 When asked what motivates him to support the Fellowship Fund, here's what Sunnyside resident, Dr. Richard Meyer, shared with us.
"I give simply because I feel for people who go through difficulties trying to make their way in life. It's just something that you do for others, and I don't like to pass up the opportunity to help people when they are in need. I support a lot of charities — from wildlife to hunger — and when people are up against challenging times they need help, and if one can give them some then I think they should. The Fellowship Fund is a good opportunity to contribute - especially when someone passes and you do it to show respect to them and to help others at the same time. It's easy to do and it seems so natural."
---
Dick Morin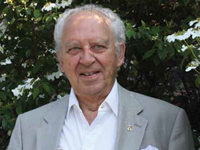 Dick Morin supports many interests and causes that are close to his heart. As the former editor and general manager of The Daily News Record, Harrisonburg's local newspaper, as well as being president of the Page-Shenandoah Newspaper Corporation from 1980 to 2011 and directing the activities of three weekly papers, he is knowledgeable about many organizations in the community. But it wasn't until ten years ago when he was asked to serve as chairman of a capital campaign for Sunnyside Retirement Community in Harrisonburg that he learned why he would become so passionate about giving to Sunnyside.
During the capital campaign, "A Time to Build," Morin recalls touring the Sunnyside campus and meeting residents in their twilight years who had outlived their resources. In talking with them, he quickly learned more about the Fellowship Fund and how it enabled residents to continue to be cared for at Sunnyside with dignity and peace of mind. The Fellowship Fund provides the resources many residents require to help pay the full cost of their care.
"They were comforted by Sunnyside's commitment to continue to provide for them, and I saw firsthand the good work it does by assuring residents in need that they do not have to worry," he said. "I was impressed by the sense of community, the energy, and the important need provided by the Fellowship Fund."
In 2012, the Sunnyside Communities Fellowship Fund provided $2.8 million of care and support to residents in need. This care was largely given to those in Assisted Living and Healthcare.
"Sunnyside Communities is full of people who care about the residents and living here gives them peace of mind, security, and companionship," commented Morin.
A native of Maine, Morin came to Harrisonburg and has been on the Sunnyside Communities Board of Trustees since 2004. His philanthropy and community involvement reach far and wide. In addition to chairing the Sunnyside Capital Campaign, Morin has also chaired or served on numerous boards in the community including Elder Alliance, WVPT-TV Public Television, Multiple Sclerosis Society, Shenandoah University, and the Virginia Council on Economic Education. In 2001 he received the President's Award from Shenandoah University for outstanding community service.
---
Bill and Louisa Painter
When Bill and Louisa Painter began making plans for retirement, Sunnyside was the only community they considered. Both of Bill's parents, as well as Louisa's mother, lived at Sunnyside, giving the Painters a sneak peek at the community's wide range of services and the staff's commitment to providing compassionate care.
"We never looked anywhere else because we'd seen the excellent care this place provides, from independent living all the way to health care," says Louisa, a retired licensed professional counselor. "We knew from our parents' experience that Sunnyside was a great value for the money."
The Painters, who moved into their apartment in March 2008, support Sunnyside with monthly gifts designated to the Fellowship Fund, which pays the living expenses and full cost of care for residents who outlive their financial resources. The Painters like giving on a monthly basis because it's easy to remember to write the check and helps to make their overall financial picture easier to manage. It's a habit they picked up from Louisa's mother, who faithfully supported Sunnyside during her years as a resident.
"What people often don't realize is that if you give on a regular basis, it adds up to so much more than you imagine possible," Louisa says. "Mother only gave about $15 a month during the 12 years she was here, but in that length of time, it added up to so much money. Giving regularly like that makes a difference—no matter the size of the gift."
Bill, chair of Sunnyside's Resident's Association, believes that it's important to support neighbors who are struggling.
"We're a community, and it goes with being part of that community," says Bill, who retired from the Shenandoah Presbytery. "We need to help those who are in need."
The Painters enjoy their carefree lifestyle at Sunnyside, where they're surrounded by "fascinating" people from diverse backgrounds. Both are still active in the greater Harrisonburg community as well. Louisa, who plays the dulcimer, volunteers for Sentara RMH Hospice as a home visitor and bereavement counselor. She often plays her instrument for patients and their families during home visits. Bill is an avid photographer and a storyteller. A member of the Shenandoah Storytelling Guild, he tells mostly Appalachian stories and some personal tales.
The Painters, who have two adult children and one grandson, take comfort in knowing that they are spending their senior years surrounded by friends and a caring staff. That helps them feel prepared to handle any health challenges that come up for the rest of their lives, such as the time Louisa broke her kneecap and had to spend time in Sunnyside's rehab unit. They hope their monthly gifts will help to sustain a close-knit community.
"From the beginning, many people who worked here at Sunnyside saw what they were doing as a ministry—particularly because it was part of the Presbyterian church," Bill says. "That ethos of behavior has carried on, and that's a good thing. We hope our gifts will help Sunnyside continue its ministry and maybe expand in the future as there's an increasing demand for this type of institution. I hope for the rest of our lives and beyond, Sunnyside will continue to be a viable source of this kind of ministry."
---
Charlie and Mary Scott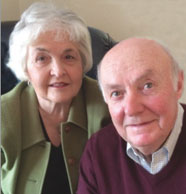 Charlie Scott and his wife, Mary, wanted to move to Sunnyside while they were still "young enough" to enjoy the pleasures the retirement community affords—from day trips, special events and chapel services to the on-site wellness center and close-knit community. The couple moved into one of the newly built Villas at Sunnyside six years ago—when they were in their mid-60s—and are grateful for the peace of mind that comes with knowing they'll be cared for throughout their senior years.
"My parents lived here, and so did Mary's mother, and they advised us to move out here while we were still young enough to enjoy an active lifestyle," says Scott, who retired as vice president for institutional advancement at Bridgewater College. "When we moved in, we were among the youngest ones here. We've enjoyed the friendships and fellowship with people who have common interests. We feel supported—not just by the staff at Sunnyside, but also by our neighbors."
As an expression of appreciation for the friendships and fellowship they've found at Sunnyside, the Scotts have made regular contributions to support many important needs at the retirement community, including the Fellowship Fund, which covers the living expenses and full cost of care for residents who outlive their financial resources.
"We feel like we have been blessed by having so much given to us throughout our lives," says Scott. "It's a pleasure to share with others who may not have been as fortunate. We feel that by giving back, we can help Sunnyside provide that high level of nursing care it's known for, while people who have less means can benefit and experience what Sunnyside has to offer."
Scott's parents and Mary's mother progressed through all three levels of care at Sunnyside: independent living, assisted living and health care. As they witnessed the personal attention and superb care given to their parents years ago, the couple knew that Sunnyside was a special place.
"The caring presence of the staff—all areas, from nursing to maintenance to the office staff—is apparent everywhere you go," says Scott. "It's also a ministry, and our chaplain service is one of the biggest support systems that really differentiates our community from so many others. We have the pastoral care component that's really important to the aging population. But all of the staff here really seems to care about the residents, and they go out of their way to make you feel at home."
He and Mary are active in the Sunnyside community and have formed many friendships with other residents. They especially enjoy spending time on the outdoor Villa patio with their neighbors.
"Gatherings like that contribute to a sense of community," Scott says. "This is not an old age home—it's a viable community of people coming together with a lot of vitality, enthusiasm and energy. We laugh together, we worship together, and we support each other during difficult times. We are people with varied interests and backgrounds, and we come together to make it a cohesive community of fellowship and support."